7/8/11: Christian Gurling, Museum Curator at the Tillamook Air Museum, writes:
Hi Daren,

Wanted to pass along these photos of the Museum's Mini-Guppy when it was employed by its former owner, Erickson Air Crane, to carry a Sikorsky Sky Crane helicopter.

Thought these would be of interest to you. Hope all is well with you.

Cheers,

Christian Gurling
Museum Curator
Tillamook Air Museum

(click on thumbnail to view full sized image)

---

(Right): Christian also writes, "Here is a wonderful photo of the Museum's Mini-Guppy carrying the Goodyear Europa. As you will recall, the Goodyear Europa was built in 1972 by Goodyear to provide public relations operations in Europe. Among its many duties while in service was use as an aerial T.V. platform for Prince Charles and Lady Diana's wedding in 1981 and again as a T.V. platform in 1986 at the wedding of Prince Andrew to Sarah Ferguson."


Thanks for the great photos and the info about the Europa, Christian!

6/13/11: Our new friend at NASA, David Elliott, Super Guppy Project Manager, writes:
Daren,

I am the new Super Guppy program manager replacing Frank Marlow, who retired last February. I thought I would drop you a quick email to let you know that the NASA 941 is still very active with multiple missions through the end of 2012.
We are back in business moving V-22 fuselages from Philly to Amarillo for final assembly, as well as delivering various shuttle artifacts to museums as they come available. Itís an exciting time for us as we move into a new era at NASA, one that I am sure will include the Guppy for many years to come.
I am happy to announce that we will be bringing the Super Guppy to the Dayton Air Show, July 22nd to 24th, so if youíre in the neighborhood come on by. If you have any questions, feel free to contact me anytime.
David Elliott
Super Guppy Project Manager

From our friend Stu: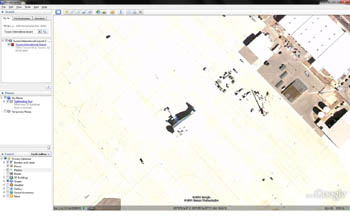 Hello.
The satellite doing mapping for Google Earth seems to have captured N941NA at DMAFB. My understanding is that this imagery is around 6 weeks old.

Unfortunately the satellite cameras totally overexposed the imagery so everything light colored is blown out, but the SG is visible and the T-38s are visible. Cheers.

From our friend Barry Quince:
Hi Daren,
If you can call this an update,as you will see not much change fronm the last photos i sent.On the day i took the photos no one was working on the aircraft,still only one engine fitted,though maybe two other engines in the crates?
Regards, Barry
Comments or Questions? Email me
Copyright © 2011 Daren Savage
All Rights Reserved