12/11/06: Boeing names the 747 LCF the "Dreamlifter"

Boeing embarassed as 747-400 Large Cargo Freighter scores direct hit on parked Renton car with test component
FlightGlobal.com


It appears from accident reports that Boeing's oversized freighter rival to the Airbus A300 Belgua, the 747-400 Large Cargo Freighter, or Dreamlifter, may have a promising future in the military as a non-precision bomber.

According to a US Federal Aviation Administration incident report filed on Thursday, N747BC, Boeing's cargo carrier for 787 Dreamliner components, "on departure (from Renton) dropped a piece of test equipment and the object struck a parked vehicle." Boeing confirmed that no one was injured in the drop, and that the damage was "minor" to the car.

It's uncertain whether or not the owner has been identified. Boeing would only say that the car was in a shopping centre, "near the Ikea store", when the fibreglass test cone fell from the aircraft's tail around 14:00. Boeing says the foible won't have any impact on plans to have the LCF deliver the first 787 fuselage components from Japan to the Global Aeronautica integration facility in South Carolina in early January.

Apparently the LCF has also left its mark elsewhere near Seattle. The Seattle Post-Intelligencer reports that a small Cessna on approach to Boeing Field was tossed about in the wake turbulence from the LCF on a parallel approach on 16 November.


Read the original article here
Here's the FAA Report
And the Google Maps location, too!

We're glad no one was hurt.



12/8/06: Boeing names the 747 LCF the "Dreamlifter"
Ugly plane gets face lift
James Wallace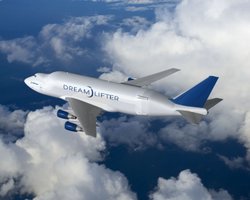 December 7, 2006--Boeing finally has a name for the big, ugly Large Cargo Freighter that will be needed to haul the fuselage sections and wings of the 787 Dreamliner to Everett for final assembly of the plane.

The modified 747 with the bulbous upper fuselage will be called the Dreamlifter. It will be painted white with blue trim on the tail and engines.


Read the complete story from the Seattle Post Intelligencer here



(We feel it's only a matter of time before it's known as the "Jumbo Guppy". :-)



12/8/06: From our "Watch where you're flying department"...

12/1/06: Daniel Jablonski sent this correction to our previous story:

Small correction, 2 CSC (Computer Sciences Corporation) Super Guppy Loadmasters (contractors) are left on the program but we have also 2 NASA Transportation Management Specialists/Loadmasters (Bobby Boyd and Chris Norton).

Thanks, Daniel!


11/21/06: Daniel Jablonski wrote to alert us that the Super Guppy has moved to El Paso!
El Paso weather ideal for NASA aircraft's life span
By Tammy Fonce-Olivas / El Paso Times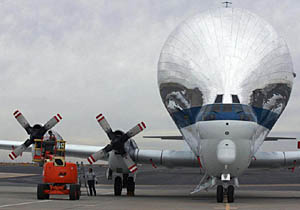 El Paso is the new home of an aircraft used by NASA to transport satellite equipment and spacecraft cargo. The NASA Super Guppy arrived Monday at the El Paso International Airport. It has a cargo compartment that is 25 feet tall, 25 feet wide and 111 feet long, and it can carry a payload of more than 26 tons.

"It's a great asset for us," Larry LaRose, site manager for NASA operations in El Paso, said shortly after the aircraft touched down in El Paso.

LaRose said housing the aircraft should provide additional exposure to NASA's El Paso office, which is known for providing astronauts with landing training. The office opened in 1985 with five employees. It now has a staff of 39. Staffing should not increase because of the Super Guppy. Patrick T. Abeln, El Paso International Airport director of aviation, said the local weather should extend the life of the aircraft..

The one-of-a-kind aircraft was relocated from NASA's Johnson Space Center in Houston to El Paso because of the local weather. The region's low humidity should keep the Super Guppy from corroding, LaRose said.
Thanks for the info, Daniel!

Daniel also mentions that there are only two Loadmasters still working with the Guppy; himself and Jim Thorpe. A lot of changes for the Super Guppy and her crew.

11/4/06: Here is the latest info on the development of the 747 LCF from Boeing's website:
Boeing 747 Large Cargo Freighter Successfully Tests Swing Tail

EVERETT, Wash, Oct. 23, 2006 -- Boeing (NYSE: BA) opened and closed the swing tail for the 747-400 Large Cargo Freighter for the first time Oct. 10. The 747 LCF is currently at the Boeing Everett factory for tests on the swing tail, a major modification to the airplane that allows large pieces to be loaded and unloaded from the back of the airplane. These tests are the first time the LCF swing tail has opened.




Since its first flight, the 747 LCF has accomplished 55 flight-test hours and 270 hours of ground tests. The 747 LCF will transport major components of the Boeing 787 Dreamliner.

Photo Credit: Boeing Image
Neg #: K63824-01





9/17/06: We found this story and photo essay about the 747 LCF's arrival into Seattle from the Seattle Times' website:
A 747 carrier of 787 cargo makes debut
Seattle Times staff

Looking like a giant beluga whale in need of a paint job, a converted 747 superfreighter touched down at Seattle's Boeing Field Saturday morning, marking a major step in the company's transformation of how aircraft are produced here.

Boeing executives regard the oversized cargo jet as the linchpin of the company's quest to become more efficient and to reduce the financial risks of launching its newest jet, the 787.

A converted Boeing 747 comes in for its first landing at Boeing Field on Saturday morning after making its maiden transoceanic flight to Seattle. The superfreighter, modified in Taiwan, marks a major step in the company's transformation of how aircraft are produced here.



A crowd of Boeing employees, pilots' family members and members of the media approach Boeing's first superfreighter after its landing Saturday morning at Boeing Field. The company designed the Taiwan-built superfreighters so it can import 787 parts in six huge prefabricated sections.





The main cargo bay of the superfreighter dwarfs those gathering inside the jet Saturday. The enlarged interior can accommodate three times the cargo volume of a standard 747-400, Boeing says.






The oversized body of the superfreighter is evident as it sits on the Boeing Field tarmac Saturday. Boeing executives regard the cargo jet as the linchpin of the company's quest to become more efficient and to reduce the financial risks of launching the 787. The company's workers in the Puget Sound area, however, say they see the ungainly jet as the harbinger of a radically reduced role for Boeing's local work force.

Chuck Lidtka, left, Boeing flight test engineer , and Rick Eads, flight test manufacturing general supervisor, carry mattresses and pillows out of the superfreighter Saturday morning at Boeing Field. Crew members brought the creature comforts with them for the jet's maiden transoceanic flight.





9/17/06: Dan Savage sent us this story about the 747 LCF:

Converted 747 superfreighter to land in Seattle
By Dominic Gates
Seattle Times aerospace reporter

Saturday, September 16, 2006 - Looking like a giant beluga whale in need of a paint job, a converted 747 superfreighter is scheduled to touch down at Seattle's Boeing Field at 8 a.m. today, marking a major step in the company's transformation of how aircraft are produced here.

Click Here to read the full story

Thanks Dan, for this late breaking news. The 747 LCF should be on the ground by now. We'll keep you posted.



9/16/06: We're behind in updates, so let's jump right in. There are several for today.
Our friend, Daniel Jablonski, Super Guppy Loadmaster, sent us this photo in July. Thinking this was an old photo from the first polish job the Super Guppy got, we filed it away. Daniel also sent copies of the photos seen below with the following humorous quip:

"Thank you. Now we have to compete with Boeing 747 LCF (for pictures) on your website...just joking.

Have a great day.
Daniel"

Heh heh. No competition. Thanks for sending the photos, as always Daniel. The 747 LCF was built upon the lessons learned at Aero Spacelines, and are, as they say, "Standing on the shoulders of giants."



Jumping ahead to August, we received photos from Steven Link who wrote:


"The Super Guppy just came out of our Paint hangar here at Tinker AFB. They contracted to paint it and several other NASA birds. I talked to the paint crew and it took them almost 2 weeks to polish this monster out and over 700 gallons of paint. And that's working a 24 hour shift! Very impressive aircraft. Some pics were taken in direct noontime sun and the others were around 7:30 just before the hangar shadows hit the plane....Enjoy!"

Steve Link

Thanks Steven, for sending in the photos!



A bit later, we received the full compliment of the Super Guppy in her new spit and polish. Very pretty! The blue is a lighter shade of blue and the white is different too.

View Stu's photos here: 01 • 02 • 03 • 04 • 05 • 06 • 07 • 08 • 09 • 10 • 11

Stu writes:

"Daren, fresh paint and a third buff job since '98! Man, she's looking good!
Seeya,
Stu"

We couldn't agree more!


9/9/06: Dan Savage emailed us this news release on Boeing's about the 747 LCF test flight.
Boeing 747 Large Cargo Freighter Completes First Flight

TAIPEI, Sept. 09, 2006 -- The Boeing [NYSE: BA] 747-400 Large Cargo Freighter took to the skies for the first time at 10:38 a.m. (UTC/GMT +8 hours) today, initiating the flight test program that will culminate in U.S. Federal Aviation Administration (FAA) certification.

The two-hour, four-minute flight was the first of 250 expected flight test hours for the unique freighter, a specially modified 747-400 that will transport major composite structures of the all-new 787 Dreamliner.

--Click Here to read the full story-- | --And there's video too! Click Here!

Thanks again Dan, for keeping us up to date on the 747 LCF!



8/22/06: Dan Savage emailed us this photo release on Boeing's website about the 747 LCF roll out.
Boeing 747 Large Cargo Freighter Rolls Out; Prepares for First Flight

TAIPEI, Aug. 17, 2006 -- Boeing [NYSE: BA] has rolled the first 747-400 Large Cargo Freighter (LCF) out of the hangar at Taipei's Chiang Kai-Shek International Airport. The enormous airplane is the first of three specially modified jets that will be used to transport major assemblies for the all-new Boeing 787 Dreamliner.
Thanks Dan, for emailing us this link and story!


8/15/06: Our old friend Mark Hansen sent us these photos of the recent Boeing 747 LCF roll out.

Mark writes:

Here are some images of the recent rollout of Boeing's Large Cargo Freighter that you might want to post on your Guppys website.

Love what you've done with your website. Keep up the good work!

Best regards,

Mark Hansen
Thanks for the photos and kind words, Mark! With your and everyone's help we will.



7/13/06: Congratulations to NASA, the crew of Super Guppy N941, the History Channel and especially to 44 Blue Productions for a great episode on the NASA's Space Programs and their successful efforts to move Mega cargos!


Go on board the Super Guppy's cargo deck while Bobby Boyd guides a load in.

To view the Quicktime VR, click on the thumbnail to the left. You will need to have Quicktime installed on your computer to view QTVR.

Congratulations to Frank Marlow, Bobby Boyd, Larry Craig, Tom Gordon, David Wyckoff and the rest of the hard working Super Guppy crew and Loadmasters for doing such a great job of showing what professionals you really are and how much pride you take in a job well done!

Click on image above to view a JPG image of the Quicktime tour.



7/10/06: Mega Movers- Space Machines Rescheduled


Due to the Independance Day holiday scheduling, the History Channel rescheduled the Mega Movers program featuring the NASA Super Guppy to Wednesday, July 12 at 2:00 AM Eastern. Check your local listings. Should be a good one! (But we're slightly prejudiced)

7/7/06: Tedd Hansen emailed us the latest info about the 747 LCF (Large Cargo Freighter).


Daren,

I found another (and I think even better) story about the 747 LCF here:

Boeing superfreighter takes shape in Taiwan **

Better pictures too! There are only 2 of them but they're actual construction photos and give a good impression of how big a job it is to create a guppy.

tedd
Thanks Tedd! You're now our official northwest correspondant. Great info!

6/28/06: Charles Lee emailed these pictures; hot off the press (as it were).


Here are a couple of shots taken the morning of 6/28/06 as a Super Guppy leaves Philly International....I believe she was transporting a V-22 Osprey to final assembly in Texas.

I caught these photos by accident while trying a new camera, I wasn't even aware this beautiful plane was in town.

I especially like the con trails coming from the props in the merky, rainy weather.

I enjoyed your excellent site.

Thanks,

Charles Lee, Boeing Retired
Wallingford, Pa.
Thank you Charles, for sending in these striking photos. The words Super Guppy and beautiful plane don't often collide in the same sentence, but we couldn't agree more! Great photos! :-)

6/27/06: We received this bit of news from Tedd Hansen. Tedd writes:
Hello Daren,

I wanted to let you know that the Seattle PI (local newspaper) ran a story on its website today (June 27) about the forthcoming Boeing 787. This story included a series of pictures, two of which portrayed the Large Cargo Freighter Boeing intends to build to transport parts of this plane. It looked like a guppy to me so I thought I'd let you know. You can access the story at this link:
Boeing Dreamliner 'coming to life' First large pieces to be assembled in Japan starting this week
I've attached the two pertinent pictures. If you want to see the complete series of pictures, here is the link:
Building the Boeing Dreamliner
Also, I wanted to say how much I've enjoyed your guppy site and your story of building the guppy RC plane in particular. I live in Central Washington state and have visited the guppy at Tillamook Oregon. Very interesting planes and I think you've done a great deed by providing so much interesting information on your site.
thanks, tedd

Thank you Tedd! Very interesting that Boeing is getting back into the Guppy game. The idea is so old it's new again! :-)

5/10/06: Guess which airplane and crew are going to be featured on the July 4th episode of Mega Movers? If you said NASA N941, good guess. ;-)
We received this email from Rebecca Graham, producer for the History Channel's Mega Movers program.
Hi Daren,
Love your website! Its very detailed and informative. I had the privilege of "hanging out" with the Super Guppy flight team in February while shooting a show for the new History Channel program, "Mega Movers." Frank Marlow, Bobby Boyd, Dan Jablonski, Dan Brown, David Wyckoff, Tom Gordon, and Larry Glenn were all there working to move a piece of the International Space Station. They are a class act, and incredible at what they do. And, just about the nicest guys you could ever meet.
I wanted to send you the airdate for the program so you could tune in, and get the word out to other Super Guppy enthusiasts. July 4th, 2006 at 10PM. It will also air in repeats I'm sure, since this is a national holiday!
Best regards,
Rebecca Graham
Producer
"Super Guppy/Space Station"
For Mega Movers,
44 Blue Productions
Studio City, CA
Thanks for the info, Rebecca! We couldn't agree with you more about what a great group of guys they are.
Click here to view the MegaMovers schedule.

5/10/06: Speaking of Daniel Jablonski, Daniel sent us these dramatic photos of N941 and her crew that were taken by Jim Hughes (Boeing move manager for the V-22),
Thanks guys for the great photos of the Super Guppy!
| | |
| --- | --- |
| | |
| | |


4/13/06: N941 endures high winds at 35d13'15.12"N 101d 42'12.01" W (Google Earth, that is..)
Kari McWest writes, "I haven't had a chance to look closely, but "a Guppy" was here in Amarillo on 29 March 2006. I don't know if it has left, but I can guarantee that if it didn't leave yesterday it CERTAINLY could not leave today with our 30-40 mph sustained winds... an average March day for us!"

"Rick Husband Amarillo airport is not far, and we get buzzed by C-130s, C-5s, and various trainers and tankers, practicing touch-and-go landings and fly-bys, right over our lab! We are above the truck garage, so when the flight path is overhead we can just about count the lug nuts!
The "distant" image (above) is from near old English Field (35d 13'51.79" N, 101d42' 24.56 W)

The Guppy (right) was at 35d13'15.12"N 101d 42'12.01" W and I shot the close photo from 35d13'10.65"N 101d 42'09.91"W, just in case you want to go to GoogleEarth and see.

cheers, kj

Thanks Kari for sending these photos.




2/25/06: N941 at Kennedy Space Center and Saturn stages through the Panama Canal video.



Our new friend Clinton Wylie sent us this photo of the Super Guppy on the Shuttle Landing Facility at Kennedy Space Center with an AWACS making passes in the background.

Click on the thumbnail on the left to view full sized image. Thanks Clinton.




It is well known that NASA agreed to use the Pregnant Guppy and later the Super Guppy to carry the Saturn S-IV stage. We found this video footage from a History Channel program about NASA's lunar mission effort which featured footage of various Saturn stages being barged though the Panama Canal.
Click on the image on the right to watch the video (9.2 Mb WMV)

To view recent updates, click on the images above.
Once the new page loads, scroll down to find the New (

) icon.



Home | Guppy News!



Comments or Questions? Email me
Copyright © 2006 Daren Savage
All Rights Reserved