All About Guppys
Archive - 2005
9/19/05: Proud beginnings, sad ending.
We found these photos on Airliners.net and wrote to the photographer, Ellis Chernoff for permission to add them here. We've written about the Pregnant Guppy's demise, but seeing her sitting in the scrap heap while being slowly stripped of parts is very sad.

Ellis writes, "I think that those were the only pictures I got to take on that one opportunity at American Jet at VNY [June 1978- Ed.]. The management didn't like photographers after one took a bunch of shots that were published in an Air Classics issue. They didn't like their company image related to the junk yard but rather to the end product which was refurbished planes shiny and new looking. Well, a lot have years have passed and history demands that these remaining images be made available!

Thanks, Ellis"

No, thank you Ellis and we agree. Ellis notes that these were taken in the late 70s.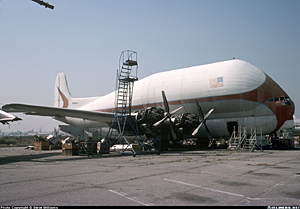 As a side note, I also found this photo on Airliners.net, taken by Steve Williams. Click on the thumbnail to link to the page on Airliners.net.
(Link will open in a new window)
Note that both of the Guppys have been renumbered. The Pregnant is now registered as N126AJ and the Mini has been reregistered as N422AJ. The Mini's N number would later be changed by Aero Union to N422AU. Easy duty for the paint shop.

8/8/05: Photo Credit Correction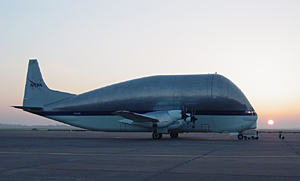 Our friend Daniel Jablonski emailed us to let us know that our good friend David Wyckoff deserves the credit for most of the photos on the CD he sent. Some of them are simply spectacular; especially some of the sunset photos.
We'll be posting more of the galleries in the near future. There's some really neat stuff in there.

7/31/05: Super Guppy Makes Brief Appearence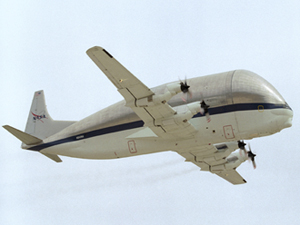 "It attracts attention everywhere it goes, and probably inspires no small number of UFO sightings. The bizarre-looking Super Guppy cargo transport, the last of its kind, made a low and slow journey from Houston, Texas, to Edwards Air Force Base April 14 for landing gear maintenance at Dryden."

Click here to read the rest of Peter Merlin's story

7/28/05: Our friend Barry Quince sent some recent photos of the Sky-Monster (CL-44-O).
Barry writes, "I have joined the cl44 association, so if any work needs doing being I live close to the airport, I sometimes help, though only like 'pass that spanner,' 'can you fetch that,' nothing technical. So I take the camera."
We're glad he takes the most important tool--his camera! Thanks Barry!

7/18/05: NASA Super Guppy Loadmaster, Daniel Jablonski sent us a lot of photos of some of the loads they've carried and other cool photos he took along the way.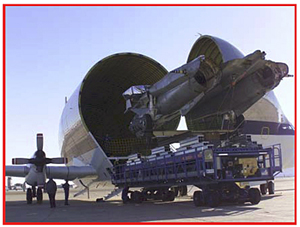 Here's an Adobe Acrobat gallery of some of the more interesting loads the Guppy and crew have carried on their missions since NASA's acquisition of the SGT in 1998.
It's a rather large PDF file (7.1 Mb), but the photos were worth it.
Seen in the thumbnail image is an F-14 carried from San Diego, California to Jacksonville, Florida on February 8, 2002.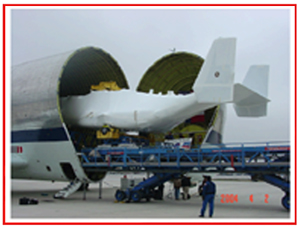 Here's a photo essay in PDF format detailing a typical V-22 Osprey mission.
This essay is 5.6 Mb. We suggest right-clicking your mouse and choosing Save Target As (or Save Link As) and saving the file to your favorite directory or Desktop for convenient viewing.
Right-click on either image to view tours or use these links:
Loadmasters Best Missions (7.1 Mb .pdf)
V-22 Osprey Mission (5.6 Mb .pdf)

7/16/05: We're moved into our new home and back online!

7/1/05: Ace's (Beall) Last Guppy Flight - 01 July 2005 - AMA to EFD.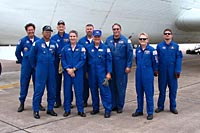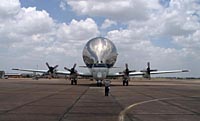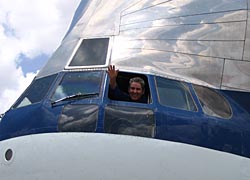 6/30/05: We received this info and photo from our friend Stu.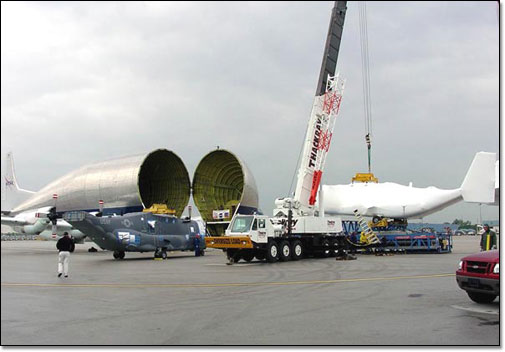 "We are picking up Osprey fuses with the tail on at the Boeing-Bell plant in Amarillo and hauling them back to the Boeing plant in Philly for mods, then back to AMA to put the wing and the engines/rotors on. There are also some Ospreys on the east coast that will never fly that have to be moved about, but I don't know when those will be moved. It pays the bills, and keeps a few guys out of the food lines!"
Track the Super Guppy! Type nasa941 into the Flight Identifier field.
Cool stuff. Thanks Stu!

6/29/05 - We are moving, please pardon our dust.
We should be back online soon - Please check back.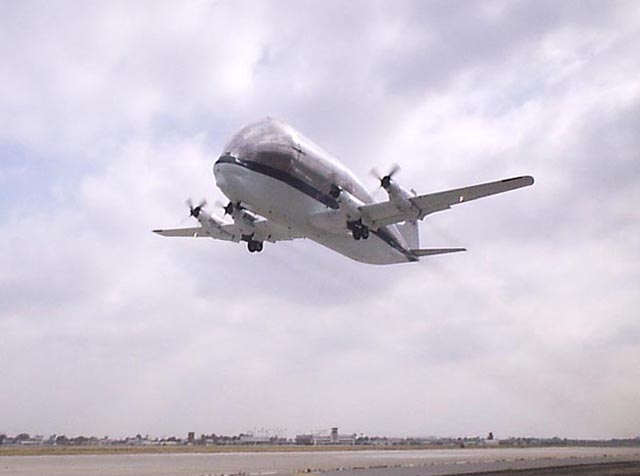 Home | Guppy News!



Comments or Questions E-mail me
Copyright © 2006 Daren Savage
All Rights Reserved