---
Aero Spacelines 377MGT Mini Guppy Turbine
(Guppy 101)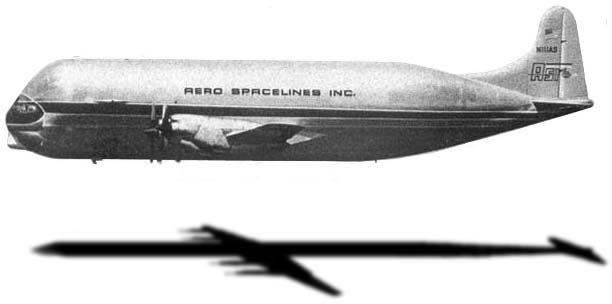 ---
Pictures

---

The 377MGT Mini Guppy Turbine N111AS, first flew on March 13, 1970, making it the first of the new generation of the Guppys to fly. Aero Spacelines developed the turboprop conversion on the 377MGT first, then later used the same conversion on the more successful Super Guppys. Seen here with the MGT from the left is Bill Lawrence, newly appointed ASI President; Walker Gilmore, Vice President of Technical Services; and then Chairman of the Board, Tex Johnson. The 377MGT is awaiting final outer wing and engine installation. This picture in taken at the Aero Spacelines ramp at Santa Barbara Airport.
(33K JPG image)

---

The 377MGT Mini Guppy Turbine N111AS, first flew on March 13, 1970, making it the first of the new generation of the Guppys to fly. Aero Spacelines developed the turboprop conversion on the 377MGT first, then later used the same conversion on the more successful Super Guppys. Also seen in this picture in the background under the MGT's starboard wing, notice the original Super Guppy parked on the tarmac in front of the Aero Spacelines' hanger.
(45K JPG image)

---









The 377MGT was originally intended more towards the commercial market. This ad brochure depicts the 377MGT (Guppy 101) hauling ferry boats, helicopters and industrial machinery with it's heavier load carrying capablity.

---
377MGT Accident

The 377MGT was the shortest lived of all the Guppys. The 377MGT was involved in an accident at Edwards Air Force Base on May 12, 1970. The 377MGT was the flight test vehicle being utilized for certification in accordance with FAR Part 25 and at the time of the accident, was engaged in one of a number of flight tests intended to establish the aircraft's optimum rotation speed with the wingflaps set at 20 degrees and the critical engine inoperative.
Click on thumbnail for more information about the 377MGT-1 Accident.

---

With the crash of the 377MGT and the shrinking aerospace budgets, Aero Spacelines found itself no customers for the 377MGT, and only one for the 377SGT. Airbus Industrie.
(44K JPG image)

---
Video
---


This rare film footage shows the 377MGT being.ferried from Santa Barbara to and landing at Edwards Air Force Base on March 13, 1970. This footage was part of the archives from the Santa Barbara Air & Space Museum which was rescued from certain oblivion by the good folks at the Camarillo Wing of the CAF. This footage features many clips of the 377MGT in flight as well as the landing and rollout at Edwards AFB. This may be the only film footage of the Mini Guppy Turbine left in existence.
Click on thumbnail above or here to view video (13.9MB Mpeg)
---
Comments or Questions? Email me
Copyright © 2006 Daren Savage
All Rights Reserved