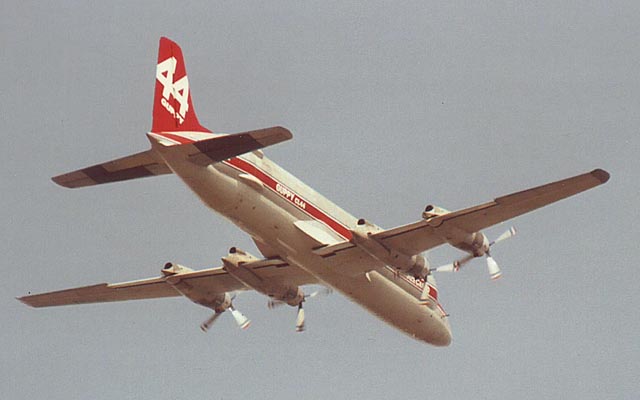 CL-44-O Certification Flights
by Barry Quince
7/3/04 - Update from Barry -- 9G-LCA still at Bournemouth airport, but looking far from perfect. Still has not flown, just some engine runs. Has been moved to a part of the airport that aircraft seem never to get out of, only in bits. Hope this will not apply to this guppy, it deserves better.
We agree Barry.



CL-44-O (9G-LCA) Arrived at Bournemouth International Airport U.K. early 2003. Parked up for a long time on the far side of the airport After a few months and some engine runs it took to the sky on the 18-04-2003 did a few circuits the last two or three with the port outer engine stopped. And as far as I know it not flown since, so it's still parked up.


(We heard from another Sky Monster fan in the know about the test flights that Barry photographed.)

He wrote, "The aircraft was undergoing heavy maintenance at Bournemouth. Upon completion, the A/C required a compass swing. To achieve this, all four engines have to be running. As for the two or three circuits with No. 1 engine shut down, the aircraft had flown several circuits with a CAA examiner on board, before the crew decided to shut the engine down due to indication problems. The Sky Monster landed without incident"
---
Our thanks to Barry Quince for sending these photos!

---
Comments or Questions? Email me
Copyright © 1997-2004 Daren Savage
All Rights Reserved